Details:
Dimpled drainage board is also called "Building Sandwich Plastic Board". It is made of HDPE or PVC plate through stamping, which is finally a plate with conical dimples. Our dimpled products including HDPE single side type and HDPE/PVC double side type, without holes or one side with holes at the top. Good drainage system is very important to the construction period and the normal usage of surrounding building. Together with porous water pipe, or non-woven geotextile, dimpled drainage board can form an effective drainage and saving system. It can also greatly reduce the hydrostatic pressure of the waterproof layer, and reach the result of initiative waterproof. By the reliable joint method, dimpled drainage board becomes a suitable waterproof adminicle.
Dimpled Drainage Board has below feature::
1. Excellent heat preservation and insulation performance;
2. Light weight with good water drainage and save performance;
3. Good air permeability.
Data sheet: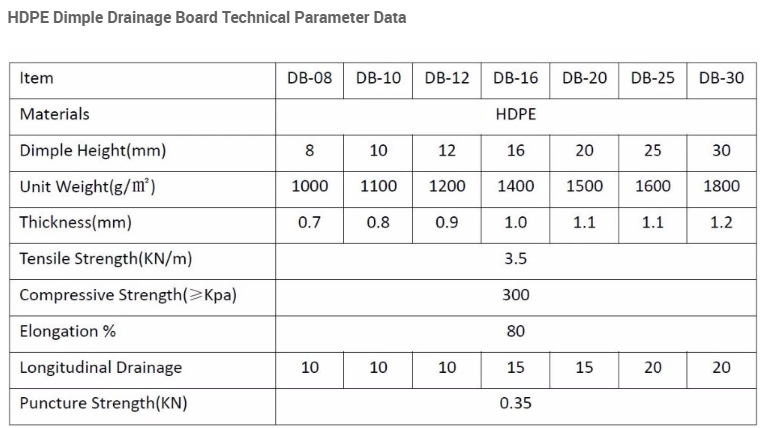 Application:
1. Greening project: The garage roof greening, roof garden, vertical greening, roof greening, football pitches, golf course, etc.
2. Municipal engineering: airport, road embankment, subway, tunnel, landfill, etc.
3. Construction: the upper or lower building foundation, inside and outside the basement wall, floor and roof, roof seepage control and heat insulation layer, etc.
4. Water conservancy project: the reservoir seepage water, reservoir, lake water seepage control, etc.
5. Traffic engineering: highway, railway basement, roadbed, dam and slope protection layer, etc.
6. New road and renovation project
7. Asphalt overlay on the old cement concrete road surface
8. Repair of asphalt pavements cracks and old asphalt road
9. To be reinforced layer for airport runway, bridge, playground.