Details:
Geocell is honeycomb shaped structures,in material of HDPE or PP, welded by high frequency ultrasonic. Being flexible, geocells can be folded in transit and outspreaded filling with sand, stone, or concrete in roadbed construction. Buried under earth, geocell takes the part of boosting up the carrying capacity of weak groundsill; sloping surfaces paved with geocells shape a defense framework.
Data sheet: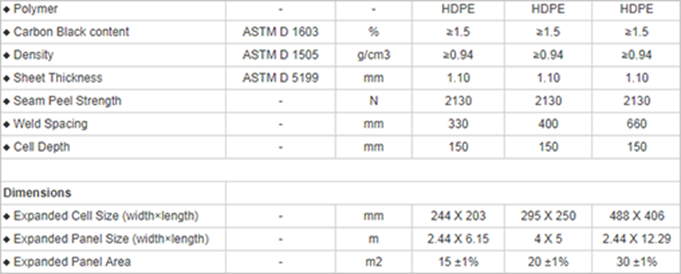 Product Use:
1. Stabling the roadbed of railway
Geocells provent detritus and gradation moving in landscape orientation, firm the whole roadbed, stop collapse occurring, increase road using time obviously in area where traffic is heavy.
2. Staling the roadbed of highway
Outspreaded geocells produces high elastic force, reduce more then 50% foundation thickness liken to traditional stone foundation and detract gravity and press in landscape orientation.
3. Bearing loading press in dykes and walls
Geocells form a certain construction to prevent press in landscape orientation, can be projected staged.
4. Administering shallow water river way